Yupz... it's great to have my bicycle in function again. Was cycling near my usual running route from Geylang to Mountbatten to Tanjong Rhu to Stadium area to Kallang river then back home. Here's some photos to share on the scenery along the way.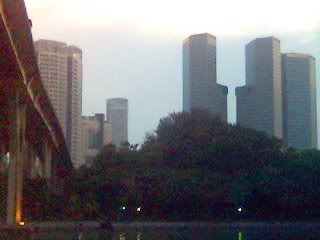 Beneath Benjamin Sheares Bridge facing Suntec City



Beautiful scenery of suspension bridge and water-resturant



Evening glow on Indoor Stadium



Goodbye Leisure Park



At Kallang River facing the skyscrapers, nice reflection



Took this myself while cycling on the road..haha. So unsafe.